Event and Wedding Packages
At JB Pro Live, we take all the pressures of planning a wedding of your shoulders. Our professional wedding DJ in New Jersey and entertainment company is well known throughout New Jersey and the surrounding areas for our one-of-a-kind wedding parties. We have several wedding packages to choose from, and you can mix and match them as you like. Our aim is to make sure that you and your guests have a wonderful time. The areas we service include:
Asbury Park, NJ
Princeton, NJ
Somerville, NJ
Bridgewater, NJ
Hillsborough Township, NJ
Montgomery, NJ
Making your Wedding Party Unforgettable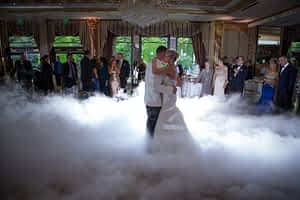 Because you want your wedding celebration to be perfect, there are some important things to consider. When you first contact us at JB Pro Live, our local DJs for weddings and party planners will sit with you and brainstorm all of the special elements that make your event exclusive and unique. Here are some topics we will discuss for planning your wedding event:
Location: Think about the venue. Do you want your event to take place indoors or outside? What style do you want, formal, buffet, cocktail or food stations? If you are planning an outdoor event, think about the weather and what your options will be if it rains. Bear in mind that many popular venues are booked months in advance for weddings in New Jersey. If your preferred location is unavailable, give yourself plenty of time to find an alternative.
Budget: Your wedding reception will be the next expensive thing to consider before the wedding itself. Be prepared to have a ballpark figure in mind when you meet with your event planners. Calculate how many guest you are expecting and what your needs will be.
Key elements: Decide what the focal points of your event will be. Do you want speeches and reminiscences, entertainment, or a nightclub atmosphere? Remember, you don't want your event to appear over-planned. Leave room for a little spontaneity.
Light up your life: Our wedding DJ packages can include lighting, which can make or break your wedding reception. Use it to set the ambiance and to suit your theme or style.
Please be seated: Work out your seating arrangements so that everyone is comfortable. As the bride and groom, you should be seated at the front of the room. Your bridal party should be sitting with you, facing the rest of the guests. Place cards can make it much easier for people to find seating.
Ladies and gentlemen: Consider whether you would like an announcement as you enter the event room. Depending on your wedding DJ in New Jersey, announcements can be done by your schedule. This could simply be "Ladies and gentlemen, please welcome the newlyweds Lilly and James," or perhaps you would prefer something humorous or more elaborate.
Food and Drink: Decide how many courses you want for your wedding dinner. Don't forget to provide vegetarian options. It is always a good idea to ask your guests if they have any allergies or dietary restrictions. Do you want a sit-down meal that is served or buffet style?
Place the Cake: Think about where you want the cake positioned. Will you cut it before or after the meal? Make sure your photographer or videographer is there when you are ready to cut the cake.
Let's Get Ceremonial: Think about what other ceremonial traditions you may like to have at your wedding in New Jersey. For instance, you may want to have the garter belt removal or the throwing of the bouquet with all your guests present.
Get Your Groove On: Of course, at the heart of our wedding packages are our DJs. Think about when you want the dance floor open. Do you want to have music and dancing between courses or to start the party after dessert? What style of music do you want? That is important because it will set the tone for the event. You may decide you would like a musical theme like Oldies or 80s. Alternatively, you might want a contemporary mix. Think about how you want the music to change as the night goes on. Do you want to slow it down later in the evening or keep it kicking all night long? If you want specific songs played, draw up your list beforehand. Don't forget to provide your professional wedding DJ with a "do not play" list, so you don't get any unpleasant surprises.
Children: If you have young guests, make sure to have a separate kids' table stocked with entertainment. For example, provide crayons and coloring books for the moments that may seem "boring" to them. Place centerpieces that can be played with later, such as Lego bricks. Print out wedding-themed activity booklets to keep them busy. If you have a small number of similar aged children at your wedding, set up a kids' tent so they can have a little space to themselves. If you have more than two or three young children at your wedding, it might be a good idea to hire a babysitter to make sure they stay out of trouble.
Capture the Occasion: JB Pro Live also offers photography in our wedding packages alongside our wedding DJ packages. It is essential that you and your spouse have something to help you look back on this special event. You can have a photographer and a videographer present. You can even set up a photobooth with an attendant so that your guests can have their pictures taken whenever they wish.
From helping you find the perfect venue to creating an imaginative theme, JB Pro Live can make your dream become reality with our customizable wedding packages.
Meet Our Talented DJs and MCs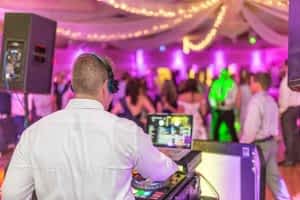 You can easily spot a talented wedding DJ in New Jersey. He's the one who knows more about music than you or anyone else in the room. He can make a party rock with any sounds you choose, even if he's never played them before. At JB Pro, we have not one, but three talented DJs, and they are all ready to party!
DJ Jan aka "Jockamo Beatz" brings high-octane energy to your party with his 10+ years of experience in the nightclub scenes of New York and New Jersey.
DJ Ryan is one of the most respected beat masters in the New York and New Jersey clubs. He has hosted or performed at more than 600 private events as well as hundreds of nightclubs, so you can be sure he has a lot to bring to the turntable.
DJ Yanni can read the vibe of the crowd and get them moving and grooving. From EDM and Hip Hop to 80's and Oldies, his passion is to see people on the dance floor having a good time and letting loose to the music that he loves to play.
Party host extraordinaire MC Kenny aka "Kenny Mac" has been dancing since he was a child. His enthusiasm as a local DJ for weddings is infectious, and his charismatic style has been capturing wedding guests for many years.
Wedding Party Packages
When it comes to planning your reception, you have options with JB Pro Live's wedding packages. To begin with, you can choose our standard wedding DJ package which will give you one DJ and one MC to get your party moving. This package also includes basic lighting and a façade. If you prefer an upbeat nightclub atmosphere, the Nightclub package will keep you and your guests on the dance floor.
Lighting up the Venue
JB Pro Live knows just how to light up your wedding in New Jersey! We will set whatever mood you want with wireless uplighting. We can even customize the room to your color of choice, or to match your wedding party theme. With LED moving heads to enhance your spotlight dance, you will feel like you are dancing in your own personal nightclub. Add a unique touch with GoBo/ Monogram Projection, which will highlight the bride and groom by projecting names or monogram on any surface in the room. JB Pro's intelligent lights and trussing means that your event will exude atmosphere while remaining safe.
Smile!
You will want to remember every moment of your special night. We will capture it all for posterity. Choose of JB Pro's photography wedding packages along with your wedding DJ in New Jersey. The Silver Package provides a professional photographer who will cover your party for 10 hours. That's a lot of quality snapshots! You get to the keep the high-quality digital images on a personalized CD. Or you can choose the Gold Package, and get a broader perspective and more shots with the help of two pro photographers and ten hours of coverage.
Camera Action
JB Pro Live can make a movie out of your wedding party. We have several wedding DJ packages that also include capturing your special event forever on video. With the Purple Video Package, you get eight whole hours of video coverage from an experienced cinematographer. You will receive a personally edited film of your ceremony, cocktail hour and reception on a convenient USB drive. If you want a little more, the Black Package will give you an extra two hours of coverage and two separate cinematographers. As well as a personalized edition of your ceremony and reception, your video will also cover the bride and groom's preparation. The film will include a complimentary 3-5 minute highlight.
It's a tough choice, but if you can't make up your mind, you can have the best of both worlds with the Platinum Package. It provides ten full hours of photographic and cinematographic coverage by two photographers and two videographers. You will receive high-quality digital images on CD and a personally edited film of your ceremony and reception, as well as a 3-5 minute highlight, on a USB drive.
Wedding Day Extras
Make your wedding extra special with these unique add-ons to our wedding DJ packages:
Photobooth: This special feature means your guests can have their photos taken whenever they wish. The photobooth and attendant will be in place for four hours. After the event, you will receive a flash drive and photo album with all the images that were captured so that you can have a unique keepsake.
TV Package: Make yourselves and your guests into instant movie stars by portraying a montage of live photos or Instagram feeds on two large LED screens. Or take a trip back in time with a photo montage of special moments from the life of the guest of honor.
Slo-mo Video Booth: Here's something a little different. Keep everyone posted, even your friends that can't be there for your special day. You can record your guests at 240 frames per seconds and instantly upload to social media and email.
Dancing on the Clouds: There is nothing quite like that first dance as newlyweds. Whatever song you choose, whether it's the dulcet tones of a classic crooner or the rhythmic beat of salsa, you can make the moment extra special by enhancing it with low-lying fog. You and your future spouse will feel like you are dancing on clouds.
Get the Nightclub Effect: Liven up the party and get a real night club effect with a Co2 LED Cannon to pump out the fog. Our local DJs for weddings make it happen!
professional wedding nj, wedding dj packages, wedding djs in new jersey, wedding dj in new jersey, local djs for weddings, wedding new jersey
Contact JB Pro Live
When you need an absolute professional for your wedding in New Jersey, JB Pro Live has the wedding DJ packages you need. We serve the following locations and more:
Princeton, NJ
Somerville, NJ
Bridgewater, NJ
Hillsborough Township, NJ
Montgomery, NJ
Asbury Park, NJ
It's time to amp up the best night of your life. If we don't have what you want, JB Pro Live's talented wedding DJs in New Jersey will even find it for you. JB Pro Live is absolutely committed to making your wedding an unforgettable event. Contact the professionals at JB Pro today and let's talk about how we can make your wedding swing.